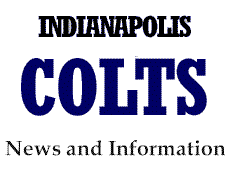 Legacy of the Blue and White:
Page 5 of the Colts Record Book

---
Colts in the RCA Dome's
Ring of Honor
---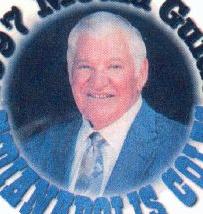 Robert Irsay (inducted 1996)
Robert Irsay, who moved the Colts franchise from Baltimore to Indianapolis in the spring of 1984, was the first member of the Colt organization to be inducted into the Ring of Honor on September 23, 1996.
Born on March 5, 1923, Irsay joined the Marine Corps in his youth and graduated from the University of Illinois. In 1952, he formed the Robert Irsay Company of Skokie, Illinois and made his fortune with the profitable heating, ventilating and air conditioning corporation. The company was sold in 1971 and he later formed Colt Construction and Development Co.
Irsay became owner of the Colts in 1972 as part of the league's more controversial moves, trading his recently-acquired Los Angeles Rams to Carroll Rosenbloom for the Colts' franchise.
Known for his combative style, Irsay believed that an antagonistic media and the threat of the state of Maryland to take over the team through eminent domain forced to move to Indianapolis. A crowd of 20,000 greeted Irsay at the Hoosier Dome on April 2nd, 1984; Irsay called the rally "the greatest thrill I've had in football."
In November of 1995, Irsay suffered a massive stroke which marked the beginning of a series of hospitalizations. Although he appeared to be making progress from time to time, in August of 1996 he suffered what his wife Nancy called a "very serious setback" which forced a 41-day hospital stay at the Mayo Clinic in Rochester, Minnesota.
On January 14, 1997, Irsay finally succumbed to a heart attack and kidney failure, dying less than two months short of his 74th birthday. NFL Commissioner Paul Tagliabue praised Irsay's contribution to the league upon hearing of the news.
"The NFL family has lost a loyal and devoted member with the death of Robert Irsay," Tagliabue said. "He was a strong leader during his 24 years as Colts owner and the club's success continued during the last 14 months under his son Jim's direction. Bob served his beloved Illinois and Indiana communities not only through the Colts and his other business interests but also through the many charitable activities in which he and his family were involved."
---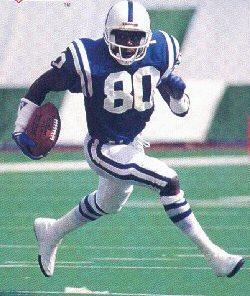 Bill Brooks (Inducted 1998)
Bill Brooks, one of the most celebrated players in the Colts' history in Indianapolis, was named the team's Director of Community Development/Player Relations on July 6th, 1998 and was inducted into the club's Ring of Honor on August 22nd, 1998.
Brooks joined the Colts as a fourth-round draft pick in 1986. He played with the Colts from 1986 through 1992, amassing 411 receptions for 5,818 yards and 28 touchdowns. His reception total ranks fourth-best in club history behind wide receiver Raymond Berry's 631, while Brooks' yardage total ranks fourth-best in Colts annals and his touchdowns seventh-best.
Brooks burst upon the city's conscience as a rookie with 65 receptions for 1,131 yards and eight touchdowns, becoming one of only nine NFL rookies at the time to produce a 1,000-yard season. Brooks started 98 of 106 career games with the Colts. He is one of five Colts to catch passes in more than 100 different games in his career, and he holds the club record with 50 or more receptions in six consecutive seasons.
Brooks finished his NFL playing career with Buffalo (1993-95) and Washington (1996). He started in Super Bowl XXVIII for Buffalo against Dallas, catching seven passes for 63 yards.
Brooks has been a vibrant role in numerous community projects since 1986. He served as the emcee of two "Yes to School, No to Drugs" rallies for the Colts that targeted area youths and reached audiences exceeding 70,000 students. He was also bestowed the Sagamore of the Wabash by governor Evan Bayh in 1990, Indiana's highest club's United Way spokesperson in 1991 and 1992.
Some of his other involvements have come with Big Sisters of Indiana, Big Brothers of Indiana, the Wheelers Boys Club and the Butler University Board of Visitors. Brooks also assisted in Thanksgiving and Christmas food drives while with the Colts. In 1993, he was a finalist for the prestigious Byron "Whizzer" White award, a citation given to a NFL player for community service in a vote taken by the entire playing roster of every team. Brooks also received the Marshall "Major" Taylor award in 1991 and is a member of the National Football Foundation and College Hall of Fame.
Brooks is a native of Boston, Massachusetts. He attended Framington High School and Boston University. He was elected to the Boston University Hall of Fame in 1991. He hold a bachelor's degree in business administration from Boston University and a master's degree in business administration from Butler University. Brooks and his wife, Holly, reside with their daughter, Brianna, in Carmel, Indiana.
---
Back to the front page of the record book.