OK, Bob ... Let's Show Them What They Can Win ...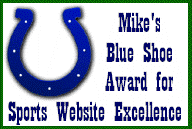 ---
Since so many other people are offering awards for websites, I decided to jump on the bandwagon. As such, my friend Kevin created the little masterpiece you see above for me.
There are only five requirements to win the award. They are as follows:
1. Personal sites only.
2. No pornography or obscene language, unless it appeals to me.
3. The site being nominated should have something to do with sports. All sports will be considered -- except for bowling (if you actually play better after you start drinking, how can you call it a sport?) and golf (hitting a ball with a stick, walking up to it, and then hitting it again is not a sport).
4. Make sure to sign the guestbook. It's the easiest way for me to get back to a site. It also massages my ego, which dramatically improves your chances of winning.
5. If you win, please provide a link back to my site. Please link it to the site's front page (http://members.tripod.com/~bonesaw/index.htm).
Sites that get submitted will be checked every couple of weeks. If you win, I'll contact you; if not, well .... Since I'm not all that big on forms and frames, just send me an e-mail if you'd like to nominate a site, and write "Award Submission" in the subject field.
Be sure to include the following information:
Your name
Your e-mail address
The URL of the site being nominated
The title of the site being nominated
A brief description of the site
That's all there is to it. Good luck!
---

Check out the past winners of the Blue Shoe Award.