Latest Colts News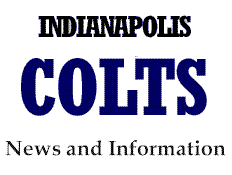 ---
Welcome to Circle City!
Welcome to the Infopedia's guide to Indianapolis, affectionately known as "Circle City." Here, you'll find information about the city itself, as well as a little background info on the history of Indianapolis and a short list of things to see and do in the city. Enjoy, everyone!
For those of you who will be traveling to Indianapolis in the near future (hopefully to fill up the RCA Dome at a Colts game), the first thing I would suggest is to visit the two links listed below. They're from a site called CircleCity.com, which is a sort of online guide to Indianapolis.
Another great site that you might want to take a look at is 465.com, an electronic magazine run by Terry Moore. Like CircleCity.com, it contains lots of great links for things to see and do in Indianapolis, as well as local news and other important information. If you're planning on traveling to Indy anytime soon, you can't go wrong with either of these two sites.
In addition, for those of you interested in getting seats to a Colts game, you can click on this link, which has a seating chart of the RCA Dome and ticket information. As always, if you have any questions, please e-mail me.
---
CircleCity.com's Travel Guide is just what it says -- a travel guide for people who are traveling to Indianapolis. The Travel Guide provides visitor information on the following sections:
Section of the Travel Guide
Subsections
Around Indiana
State Parks
Wine Country
Riverboat Casinos
Visiting Indianapolis
Attractions
Things to Do
Dining
Map of Highways
Map of Downtown
Facts about Indianapolis
Day Trips & Getaways
Day Trips & Getaways
Transportation
Airport
Limousines
Taxis
Car Rentals
Buses & Trains
Weather
Weather Reports
Lodging
Hotels & Motels
Bed & Breakfasts
IndySource Travel
Other travel information
CircleCity.com's 'Round Town is a guide of attractions, events and other things to do in the city. Among the sections offered in 'Round Town:
Sections offered in 'Round Town

Dining Guide
Comedy Clubs
Museums
Books
Calendar

Music
Coffee Shops
Attractions
Parks/Recreation
Getting There
Movies
Art & Culture
Historical Sights
Shopping
---
A Brief History of Indianapolis
Indianapolis, Indiana
Population: 731,327
Elevation: 717 ft
Area codes: 317, 219
Founded: 1820

The present site of Indianapolis was an area of rolling woodland when it was selected by a group of 10 commissioners as the location of the new Indiana state capital on June 7, 1820. It was chosen because it was close to the geographical center of the state. Only scattered Native American villages and two white settlers and their families were located in the region at the time. The city was laid out in the wheel pattern of Washington, DC. In January, 1825, the capital of Indiana was moved here from Corydon.
In its early days, the city grew mainly because of its importance as seat of the state government. By the turn of the century, Indianapolis had emerged as an important manufacturing center in the Midwest and the commercial center of the rich agricultural region surrounding it.
Indianapolis is the largest city in Indiana, one of the leading US distribution hubs and an important business and financial center. The annual 500-mile
automobile race at the Indianapolis Motor Speedway, an outstanding race course, has brought international fame to the city. Indianapolis is also referred to as the nation's amateur sports capital. Indianapolis hosts several US Olympic trials. Among the city's industrial products are pharmaceuticals, airplane and automobile parts, television sets, electronic equipment and medical diagnostic equipment.
---
Things to See and Do in Indianapolis

City Market
Renovated marketplace was constructed in 1886. This building and two adjacent areas feature smoked meat, dairy, specialty bakery and fruit stands and ethnic foods. (Daily exc Sun; closed some hols.)
222 E Market St.
Phone 317/634-9266

Crown Hill Cemetery
3rd largest cemetery in nation. President Benjamin Harrison, poet James
Whitcomb Riley, novelist Booth Tarkington and gangster John Dillinger are
among the notables buried here.
700 W 38th St.
Phone 317/925-8231.

Easley's Winery
Sales room; wine tasting (21 yrs and over). Tours by appt. (Daily; closed hols.)
205 N College Avenue
Phone 317/636-4516

Gray Line Bus Tours
Contact Indianapolis Sight-Seeing, Inc.
9075 N Meridian, 46260
Phone 317/573-0699

James Whitcomb Riley Home
Maintained in same condition as when the 'Hoosier Poet' lived here (1893-1916). Tours (daily exc Mon; closed major hols.)
528 Lockerbie St.
Phone 317/631-5885

National Track & Field Hall of Fame
Museum honors track and field greats. Medals, uniforms and photographs;
exhibits. (Daily exc Colts' home game days and RCA Dome event days;
closed major hols.)
Phone 317/237-5200

Indiana World War Memorial Plaza
A 5-block area dedicated to Indiana citizens who gave their lives in the two
World Wars and the Korean and Vietnam conflicts. The World War Memorial in middle of plaza is a massive edifice of Indiana limestone and granite. The Shrine Room (upper level) is dedicated to the American flag; Military Museum (lower level). (Wed-Sun; closed Jan 1, July 4, Thanksgiving, Dec 25.)
Outside in the center of the south stairway stands a bronze statue, Pro Patria. The 4-story building in northeast corner of plaza is national headquarters of the American Legion. Landscaped parks are located north and south of the building; north park, Veterans Memorial Plaza has flags of 50 states. (Daily)
431 N Meridian St, bounded by New York, St Clair, Meridian & Pennsylvania Sts.
Phone 317/232-7615

Madame Walker Urban Life Center and Theatre
The Walker Theatre, erected and embellished in an African and Egyptian motif, was built in 1927 as a tribute to Madame C.J. Walker, America's first self-made female millionaire. The renovated theater now has theatrical productions, concerts and other cultural events. The center serves as an educational and cultural center for the city's black community. Tours (by appt; fee). (Daily exc Sat.)
617 Indiana Ave.
Phone 317/236-2099

President Benjamin Harrison Memorial Home
(1874). Residence of 23rd president of the US. Sixteen rooms with original
furniture, paintings and family's personal effects. Herb garden. Guided tours
(every 30 min). (Daily; closed some major hols, also 500 Race Day.)
1230 N Delaware St.
Phone 317/631-1898

Scottish Rite Cathedral
Structure of Tudor-Gothic design, built in 1929. The 212-foot tower has a
carillon of 54 bells; auditorium has a 7,500-pipe organ. Interior is elaborately decorated. Tours. (Mon-Fri; closed wkends & hols.)
650 N Meridian St.
Phone 317/262-3100

State Capitol
(1878-88). Structure of Indiana limestone with copper dome. (Mon-Fri; closed hols) Tours by appt.
Between Washington & Ohio Sts and Capitol & Senate Aves.
Phone 317/233-5293

Union Station
Historic railway station fully restored as 'festival marketplace' with more than 75 stores, restaurants and entertainment establishments. (Daily)
39 W Jackson Place
Phone 317/267-0701

Conner Prairie
A 250-acre historic site. Costumed interpreters depict life and times of early settlement in this 1836 village; contains 39 buildings, including Federal-style brick mansion (1823) built by fur trader William Conner (guided tours). Working blacksmith, weaving and pottery shops; woodworkers complex; self-guided tours. Visitor center with changing exhibits. Hands-on activities at Pioneer Adventure Area; games, toys. Picnic area, restaurant, gift shop. (May-Oct, daily exc Mon; Apr & Nov, Wed-Sun; closed Easter, Dec 25.) Special events throughout year.
13400 Allisonville Rd, approx 6 mi N of Expy 465, in Fishers.
Phone 317/776-6000 or 800/966-1836

Eiteljorg Museum of American Indian and Western Art
Collections of Native American and American Western art. Considered one of the finest collections of its kind. (June-Aug, Mon-Sat, also Sun afternoons; rest of yr, Tues-Sat, also Sun afternoons; closed Jan 1, Thanksgiving, Dec 25.)
500 W Washington St.
Phone 317/636-9378

Hook's Historical Drug Store & Pharmacy Museum
Ornate 1852 furnishings, drugstore and medical antiques; operating soda
fountain. (Daily; closed major hols; also Mon in winter)
Indiana State Fairgrounds, 1180 E 38th St.
Phone 317/924-1503

Indiana State Museum
Depicts Indiana's history, art, science and popular culture with five floors of
displays. Exhibits include the Indiana Museum of Sports, Indiana radio, forests of 200 years ago, a small-town community at the turn of the century, paintings by Indiana artists. Changing exhibits. (Daily; closed hols.) 202 N Alabama St, at Ohio St.
Phone 317/232-1637

Indianapolis Motor Speedway and Hall of Fame Museum
Site of the famous 500-mile automobile classic held each year the Sun before Memorial Day. Many innovations in modern cars have been tested at races here. The oval track is 2 1/2 miles long, lined by grandstands, paddocks and bleachers accommodating 238,000 spectators. Hall of Fame Museum (fee) has exhibit of antique and classic passenger cars, many built in Indiana; more than 30 Indianapolis winning race cars. (Daily; closed Dec 25.)
4790 W 16th St, 7 mi NW.
Phone 317/484-6747.
Grounds are free exc during May; track tour.

Krannert Pavilion
Collection features American, Asian and pre-Columbian art; 20th century art and textiles. Outdoor concert terrace, sculpture court.

Lilly Pavilion of Decorative Arts
French chateau showcases two centuries of English, Continental and American furniture, silver and ceramics. Also examples of 18th-century German porcelain. Tours.

Mary Fendrich Hulman Pavilion
Collection features Baroque through Neo-Impressionist works and the
Eiteljorg Gallery of African & South Pacific Art. Allen Whitehill Clowes Special Exhibition Gallery.

'500' Festival
Month-long celebration precedes the Indianapolis '500,' held Memorial Day weekend. Numerous events include the 500 Ball, Mechanic's Recognition Party, Delco Electronics 500 Festival Parade, Mini-Marathon, Memorial Service.
Phone 317/636-4556. May.

Indianapolis '500'
For ticket information, contact the Indianapolis Motor Speedway. Sun before Memorial Day.

RCA Championships (tennis).
Indianapolis Sports Center, 815 W New York St. 10,000-seat stadium.
World-class players compete in week-long event.
Contact 815 W New York St, 46202
Phone 317/632-4100 or 800/622-LOVE. Mid-Aug.

Indiana State Fair
Fairgrounds. E 38th St between College Ave & Fall Creek Pkwy. Grand circuit horse racing, livestock exhibitions, entertainment and special agricultural exhibits.
Phone 317/927-7500 or 317/923-3431 (evenings). Early-mid-Aug.

Village Tour of Homes
135 S Elm, 13 mi NW in Zionsville. Several restored homes.
Phone 317/873-3836. 1st wkend Oct.

Blue River Valley Pioneer Fair
Fairgrounds off I-74 in Shelbyville. Demonstrations, exhibits, entertainment.
1st wkend Oct.

Entertainment
Indianapolis Civic Theater, 1200 W 38th St, 46208, 317/923-4597

Circle Theatre (Indianapolis Symphony Orchestra and a variety of other shows), 45 Monument Circle, 46204, 317/639-4300.

Dance Kaleidoscope (Oct-Nov, March & June), 4600 Sunset Ave, 317/940-6555

Indiana Repertory Theater (Oct-May), 140 W Washington St, 46204, 317/635-5252

Indianapolis Ballet Theater (Sept-May), 502 N Capitol, Suite B, 46204, 317/637-8979

American Cabaret Theatre (all year), 401 E Michigan St., 46204, 317/631-0334.

Butler University, Christian Theological Seminary and Marian College offer a variety of productions throughout the academic yr; contact the individual schools for details.

Broad Ripple
North of Downtown; south of Broad Ripple Ave, west of Keystone Ave, north of Kessler Blvd and east of College Ave.

Castleton
Northeast area of city south of 96th St, west of IN 37, north of 82nd St and east of Keystone Ave.

College Park
South of I-465, west of Meridian St, north of 86th St and east of Zionsville Rd.

Downtown
South of 11th St, west of College Ave, north of McCarty St and east of West St and Indiana Ave.

---