The Infopedia's Tribute to Jersey Johnny
and Grover

---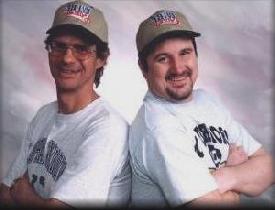 This section of the Infopedia is dedicated to John Cimasko and Rob Weber, who are more commonly known throughout the Hoosier State as Jersey Johnny and Grover. For the past few years, they have teamed up to present a Sunday afternoon radio show on WIBC, where they discuss a variety of topics (and occasionally manage to talk about the Colts).
Currently, the Jersey Johnny and Grover show is broadcast from 5:00 to 8:00 Eastern time on Sunday afternoons. However, during the NFL season, they also have a postgame show on WIBC which begins approximately two hours after each Colts game ends.
To listen to the Jersey Johnny & Grover show, click on the WIBC sports logo below. You'll need the RealAudio plug-in to listen to the show; you can get a copy of that program here.


In addition to their radio show on WIBC, Johnny and Grover also have their own website, where you can find more information about their show. Johnny and Grover also have an e-mail address, which you can use to send them any comments or question you might have about the Colts. There's even an archives section on Broadcast.com in case you want to listen to a show you might have missed.
For more information on Jersey Johnny and Grover, visit WIBC's website.
---